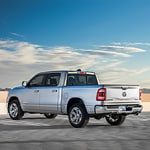 The all-new 1500 from Ram offers some of the most innovative features in the pickup world. They not only ensure your safety on the road. They also make driving your new Ram more convenient.
For example, parking in a full-size pickup like the 1500 can be a challenge. You have to accommodate not only for the cab of the truck but also the pickup bed and bumper. To make parking easier, the new 1500 offers guided parking. This parking feature lets you see the space behind you so that you can guide the truck safely and securely into it.
The new Ram 1500 also has a surround vision camera that lets you see every angle of your pickup. You will know what is in front of you as well as beside and behind you. This feature helps you avoid collisions with objects and people that you otherwise may not be able to see.