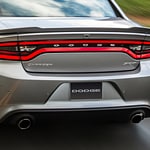 The new Dodge Charger puts you in control of your driving experience with a wide array of innovative interior features. This popular mid-size sedan comes with a host of standard and available options that allow you to customize your ride to fit your needs and preferences.
The tilt and telescoping steering column engages with a simple touch of the button, letting you adjust the position of the steering wheel to your liking. The TorqueFlight eight-speed automatic transmission comes with a fully electronic shifter that is distinct in its class. Drivers can also choose to add heated seats in front and in the back as well as the option of ventilated front seats.
You do not want to miss your chance to take the new Dodge Charger out for a test drive on the open road. We invite you to visit us today at Crowley Chry-Jeep-Dodge Inc to make this happen.