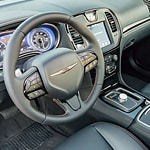 At Crowley Chry-Jeep-Dodge Inc, we know that superior interior design is important. That's why we are glad to recommend Bristol drivers the all-new Chrysler 300, a full-sized luxury sedan that packs a punch in the department of interior style.
Equipped with cloth or available leather seating, the Chrysler 300 is fully customizable and comes in a wide range of over 16 colors and textures to suit your unique tastes. Whether you're your looking for family-friendly fabrics, or are shooting for a look to emulate your unique style, the Chrysler 300 has what you need. Furthermore, the Chrysler 300 has been fitted with state-of-the-art technology mounted on the all-leather steering so you can safely access and control your tunes, audiobooks, voice command features, the digital display and more with only a tap of a few buttons.
In summary, the Chrysler 300 is a full-sized luxury vehicle that offers just as much beauty on the inside as it does on the outside. With customizable features and steering wheel amenities aimed at security and safety, this Chrysler 300 does not disappoint!