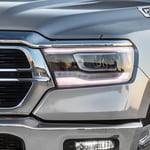 The Ram 1500 has all the criteria of a superstar light-duty, full-sized pickup. It has a strong frame, major towing capacity, fuel efficiency and advanced safety and tech. It's also one of the most durable pickups on the market. Take a look at standout durability features our Crowley Chry-Jeep-Dodge Inc team selected for your info.
Next-Gen Air Suspension
The Ram 1500 takes air suspension to new heights... or new lows, so to speak. At highway speeds, the Ram 1500's Active-Level Four Corner Air Suspension lowers the entire truck to reduce drag, improve aerodynamics and enhance efficiency.
Read More